SUMMER WATER POLO CAMP 2018
individuals and teams
age 2000-2006
Dates: July, 16th to August, 13th 2018. (every week, starting on Mondays)
Location: Camp is taking place in Belgrade, in Sports Center "Banjica" – WPC "Partizan Raiffeisen" with 2 indoor and 2 outdoor pools 50x22m
Accommodation: hotels 3* and 4* 200m far from the pool, including full board
Transfer: airport-hotel-airport
Head coach: Aleksandar Nikolić  Camp Supervisor: Stefan Ćirić
Pool training includes:
1.Swimming warm up models
2. Water polo technique (various elements in accordance with players' age)
3. Water polo tactics ( various elements in accordance with players' age)
4. Individual work according to each player's position (techniques and tactics)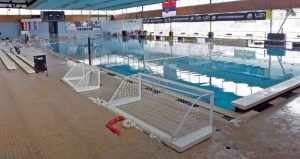 Water Polo Club Partizan was founded in 1952 and since then it has been continuously competing on the highest level, gaining impressive results and winning all national and international titles. Ever since the Serbian Water Polo Association has been founded, WPC Partizan's coaches took a major role in creating a tactic and obtaining player's top form. As the most numerous in Serbian Water Polo National Team, Partizan players took the greatest responsibility for all the trophies Serbian National team conquered on Olympic Games, World, European, Balkan Championships and FINA Cup.
The camp provides the highest level of groups and individual training in a positive and friendly atmosphere. The goal is to motivate the camp participants in achieving top results, developing personal skills, building self-confidence, team spirit and winning mentality. The training accent is on player's personal technics development, as well as the overall team development.
You are very welcome to the most famous water polo school in Europe and worldwide!
                                        IMPROVE YOUR KNOWLEDGE WITH US!

For any further details, please contact:
biljana@waterpolopartizan.rs